King's English Update
Our curbside pickup is available Monday-Friday 11 a.m. to 5 p.m. Thank you for your orders!
Alice Goes to Work (Hardcover)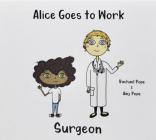 Description
---
Alice is a little girl who just found out from her mom that she can't really be a princess when she grows up. Alice Goes to Work: Surgeon, is the first book in a series in which Alice shadows a surgeon on her quest to find out what she really wants to do as a career. While in the operating room she has the chance to see the excitement, challenges, and rewards of performing surgery.
About the Author
---
Rachael lives in Salt Lake City, Utah where she works as a coordinator at an early childhood education center. She enjoys doing anything outdoors, especially with her husband and two dogs, traveling and writing during her free time. When Rachael started writing these books, she knew the perfect choice for the illustrator would be her sister-in-law, Amy. Rachael gave her the text with minimal direction, and left the rest up to Amy's creativity. Amy lives in Los Angeles, California where she's pursuing a career in art and film. During her spare time, she loves exploring California, spending time with her husband and rescue dog, Moose, and creating things that challenge her artistic abilities