Break That Grip: LESSONS FROM THE OCEAN OF LIFE...Stories, Songs, and Strategies to Equip You in Overcoming Fear and Anxiety (Paperback)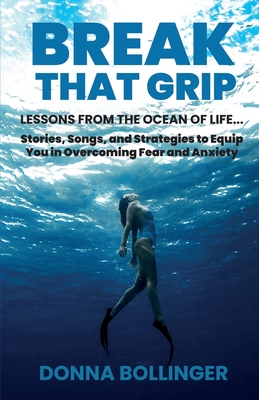 Description
---
OVERWHELMED? SCARED? AFRAID? These 3 words only BEGIN to describe the feelings that rushed through Donna. She faced an angry ocean and a powerful rip current that threatened the lives of her son and nephew. But these words are ALSO experienced by many young people today as they face their own "rip currents" in life.
In Break That Grip, Donna shares the powerful parallels between respecting the ocean and respecting life. She shares her heartfelt stories and equips young people with strategies to free themselves from their inner critic. Repeatedly applying the easy-to-remember steps will produce more positive outcomes, and we'll experience a brighter life. This book is for people who want to expand, evolve and finish strong.
Donna thought it was her job to save everyone with all of her own strength, until her life and the lives of her loved ones were threatened by a rip current on the beach of Emerald Isle, North Carolina. After this experience, she became increasingly determined to learn how to apply proven strategies, which she previously ignored, for escaping these swift and deadly channels of water that surge away from the shore.

As she trained with seasoned lifeguards and first responders, she began to recognize the distinct analogy between learning how to manage the ocean and learning how to manage her thoughts and feelings.
Being a single mother of four, an animated storyteller, and a creative composer, Donna shares fun and helpful stories along with her powerful message that teaches how to overcome those strong currents in the ocean and how to apply that same strategy when gripped by paralyzing riptides of emotions in life.

While reading this book, you will be able to apply and practice the easy-to-remember steps, and your outlook on life will improve dramatically. There has never been a better time in history to implement these universal lifesaving strategies in order to save ourselves and our planet.


- Learn strategies for remaining calm and positive.
- Harness your true potential.
- Equip yourself with tools for problem solving.
- Appreciate and grow from challenges.
- Embrace who you truly are.