Expeditions Unpacked: What the Great Explorers Took into the Unknown (Hardcover)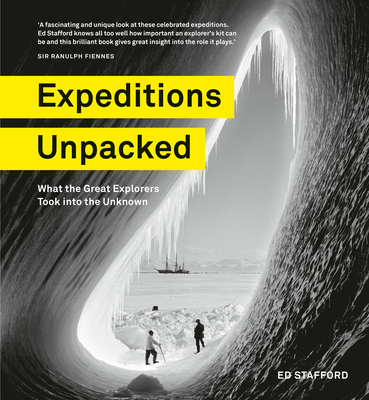 Description
---
"A fascinating and unique look at these celebrated expeditions. Ed Stafford knows all too well how important an explorer's kit can be and this brilliant book gives great insight into the role it plays." —Sir Ranulph Fiennes
In this unique and enthralling book, explorer and survivalist Ed Stafford curates
25 great expeditions through the lens of the kit these remarkable explorers took with them
. In an environment where lack of preparation could mean certain death, the equipment carried, ridden and sailed into uncharted territories could mean the success or failure of an expedition. Was it simply a case of better provisions and preparation that helped Amundsen beat Scott to the South Pole? And how has the equipment taken to Everest changed since Hillary's first ascent?
Through
carefully curated photographs
and
specially commissioned illustrations
we can see at a glance the scale, style and complexity of the items taken into the unknown by the greatest explorers of all time, and the impact each item had on their journey. How it potentially saved a life, or was purely for comfort or entertainment, and how these objects of survival have evolved and adapted as science advances, and we plunge further into the extremes.
Conquering fears and mountains, adversity and wild jungles,
each item
these explorers flew, pulled or hauled
played a crucial role in their ambitious and dangerous missions
to find out a little more about our world. Through each of these objects, we can gain a better understanding ourselves.
Get an intimate view of these and more amazing expeditions:
Roald Amundsen, race to the Pole: Norwegian expedition (snowshoes, Primus stove, piano, violin, gramophone…)
Amelia Earhart, first woman to fly solo across the Atlantic Ocean (Bendix radio direction finder, parachutes, emergency life raft, rouge…)
Tim Slessor, first overland from London to Singapore (machetes, crowbar, typewriter, Remington dry shaver, tea…)
Nellie Bly, around the world in 72 days (Mumm champagne, accordion, silk waterproof wrap, dark gloves…)
About the Author
---
Ed Stafford is the Guinness World Record-holding first person to walk the Amazon River. Sir Ranulph Fiennes described his expedition as being "truly extraordinary… in the top league of expeditions past and present." A former British Army captain, Ed filmed and blogged his deadly journey and engaged followers all over the world for almost two-and-a-half years. His footage was made into a Discovery Channel documentary and was sold to over 100 countries and he authored the best-selling book, Walking the Amazon. Ed has gone on to film seven survival series and is now an established face of Discovery Channel, and his seventh series, Ed Stafford: First Man Out, aired in late 2018 globally. 
Praise For…
---
'A fascinating and unique look at these celebrated expeditions. Ed Stafford knows all too well how important an explorer's kit can be and this brilliant book gives great insight into the role it plays.' - Sir Ranulph Fiennes

"This book is perfect for anyone fascinated by the evolution of outdoor gear and/or inspired by the stories of the people who set out on the most daring first attempts." - Hammock Living