Nissan: The GTP & Group C Racecars 1984 - 1993: Lightning Speed (Hardcover)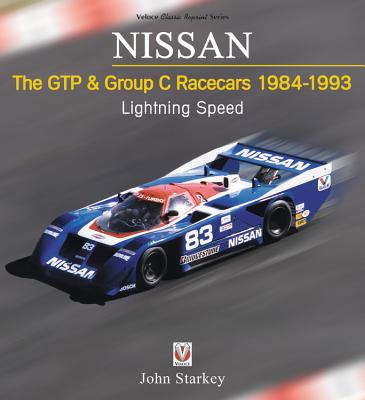 Description
---
When Don Devendorf and John Knepp got together to form Electramotive Engineering of E1 Segundo, California, little did they realize that they were setting in motion a train of events which would sooner, rather than later, bring to them and the mighty Nissan GTP cars that they promoted, developed and raced, no less than four IMSA Camel GT Championships.

Here, for the first time, is the story of Nissan in racing from 1984 to 1993, the GTP era. Nissan The GTP & Group C Racecars 1984 - 1993 tells the full story of Electramotive and NPTI, with interviews with Don Devendorf, John Knepp, Geoff Brabham, Trevor Harris, Kas Kastner, Ashley Page, and many others of the crew that won the IMSA Camel GT Championship from 1988 to 1991. The story of the European Group C Nissans, using chassis from Marches to Lolas from 1985 to 1992 is also told. Interviewed are many of the drivers and technicians, such as Mark Blundell, Julian Bailey, Dave Price and Bob Bell. Arguably the fastest of the Group C cars of this golden era, a Nissan Group C car still holds the qualifying pole position record at Le Mans from 1990.
About the Author
---
John Starkey began life in Birmingham, England.  After school, with dreams of "rock stardom" in mind, he played guitar in several bands, along the way opening for the Beatles in 1963, before becoming Jasper Carrott's manager. His father's love of fast cars had passed down to him and, starting with a Jaguar XK120, bought in 1966 for £120, he started discovering this heady world. After a 1958 Ferrari 250 GT Berlinetta, life was never quite the same again, and the racing bug bit hard when he first drove a Porsche RSR. This was followed by "a beast" of a 935, then a Lola T70 Mk 3b coupé, and a March 84G. These he raced across Europe and America. In 1997, John moved to America, where he began writing, naturally, about racing cars.  After twenty books, John thinks he has now run out of subjects to cover, although he has recently begun a novel about the world of dealing in old cars. He also investigates the individual histories of old racing cars for clients, and together with Su, his wife, enjoys walking his dog Boomer.