Rainbow Revolution (Hardcover)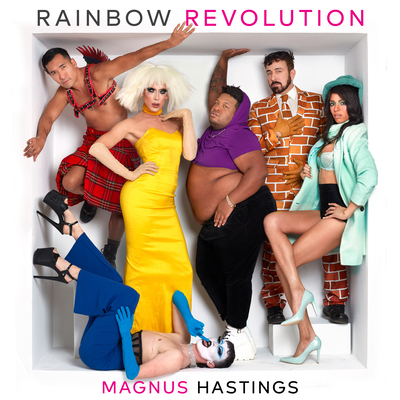 Description
---
Rainbow Revolution is a collection of vibrant portraits that celebrate the expanding spectrum of queer identity and visibility.

Starting with an empty white box, renowned photographer Magnus Hastings invites members of the LGBTQIA+ community to creatively envision the space.

Funny, political, personal, racy, magical, and matter-of-fact—each individual presents themselves as they would like to be seen.
• Features more than 300 photographs
• Includes a number of moving essays shining the light on gender and sexual identity by some of the subjects about who they are, and what that means
• A beautifully diverse celebration of queer identity and community

Proud, playful, defiant, and diverse, the empowering images and individuals in this beautiful volume represent the strength of knowing and expressing who we are.

Rainbow Revolution includes Kathy Griffin, Jade Thirlwall, Luke Evans, Boy George, Peppermint, Adore Delano, Eureka O'Hara, Alaska Thunderf*ck, Gigi Gorgeous, Nico Tortorella, and many more.
• A gorgeous book for the LGBTQIA+ audience and their friends, loved ones, and community around them
• Ideal for display on the coffee table
• Great for fans of Magnus Hastings' photography, Rupaul's Drag Race, and more
• Add it to the shelf with books like Queer: A Graphic History by Dr. Meg-John Barker, A Quick Easy Guide to They/Them Pronouns by Archie Bongiovanni, and We Are Everywhere: Protest, Power, and Pride in the History of Queer Liberation by Matthew Riemer and Leighton Brown
About the Author
---
Magnus Hastings is a British photographer based in Los Angeles and London whose work has been published in GQ, Glamour, US Weekly, Attitude, Cosmopolitan, Total Film, and many others. The author of Why Drag?, his photographs have also been featured in many other books and in several solo exhibitions.
Praise For…
---
"A collection of vibrant portraits that celebrate the expanding spectrum of queer identity and visibility."
-The Advocate

"Combining glamour and wholesome natural beauty, [Hastings'] subjects shine in his clean framing device."
-Bay Area Reporter

Holiday Gift Pick
"Celebrity photographer Magnus Hastings invites over 300 different members of the LGBTQIA+ community - including plenty of RuPaul's Drag Race alumna - to pose for a portrait. But there's a catch: Each of them must pose in an empty white box that they can use however they'd like. The ensuing photos, which are an exercise in creatively taking up space, are also accompanied by text from each individual, including Kathy Griffin, Boy George, and Alaska Thuderf*ck." - New York Magazine's Strategist
Holiday Gift Guide Pick
"How would you express yourself within an empty white space? Given that prompt, people identifying as L.G.B.T.Q. and their allies created an intimate journey in Magnus Hastings's 'Rainbow Revolution.'" - The New York Times
"Rainbow Revolution
is an unabashed celebration of everything queer...a delightful display of who we are when we are allowed to be ourselves, and choose how we are represented." - GeekDad