Puppy Training in 7 Easy Steps (Paperback)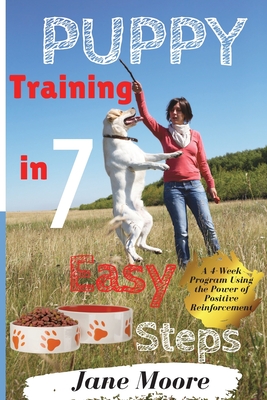 $19.99
Usually Ships in 2-3 Days
Description
---
Well-trained puppies (and happy humans) in 7 simple training steps
A new puppy is a bundle of joy, with a big personality-and tons of energy for barking, jumping, and chewing.
Teach your pup the ropes around their new home with Puppy Training in 7 Easy Steps. This step-by-step guide shows you how to use positive reinforcement to work together with your dog's instincts during training. With 7 practical, easy-to-follow steps, you'll teach them essential manners and establish boundaries-while having a lot of fun
Start by stocking up on the right supplies and learning dog training fundamentals. Find out why the 7-step system works, and start implementing clear, simple training techniques that build skills up in stages. Whether you're a first-time puppy owner or just need a refresher course, this guide will help you create the foundation for enjoying a long, happy life with your dog.
In this beginner-friendly puppy training manual, you'll find:
Easy 7-step training―Get guidance for bringing your puppy home, crate training, potty training, preventing food aggression, socializing, learning key commands, and leash walking.
Prep and puppy-proofing-Discover the best ways to prepare for getting a puppy, from checking off an essential list of supplies to doing a safety check around your home.
Tips and troubleshooting―Learn how to see each training step from your puppy's perspective, and get quick advice in case things don't go according to plan.
You and your pup will learn all the basics from this essential handbook for puppy training