SOUPE AND SALAD RECIPES MASTERY 2 in 1 (Hardcover)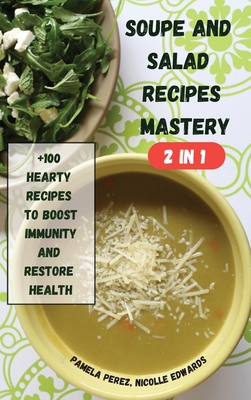 Description
---
55 % discount for bookstores
Your customer will never stop using this amazing BUNDLE
Wouldn't it be nice to come home and find a hot dinner ready to be eaten with a hearty and tasty one-pot meal, like comforting soups or stews? Have you ever tried to make a soup like Grandma's, slow cooked and flavorful? But found the process too long and sometimes too complicated? The slow cooker solves all that: prepare your ingredients, put them in the slow cooker and let it work its magic. You'll come home with a hot soup that heats up in a pot, ready to serve, and makes your whole house smell heavenly.
The inexpensive, vitamin-rich ingredients will boost your energy and strengthen your immune system.
Here you'll find recipes ranging from classics to exotic soups that are just as good for the soul as they are for the palate. Whatever your experience in the kitchen, you'll be able to prepare a variety of soups to delight everyone eating at your table.
Recipes in this book:
+100 Hearty Recipes to Boost Immunity and Restore Health
BUY NOW and let your customer became addicted to this incredible BUNDLE