Everyday Mandarin for Parents: An easy phrasebook to start communicating with your family in Mandarin Chinese (Paperback)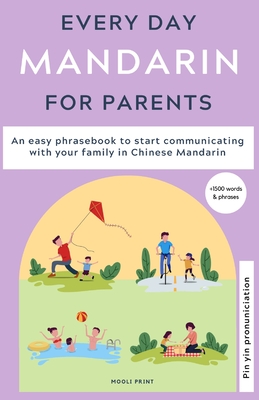 $14.99

Usually ships to store in 2-3 Days
Description
---
Learn Chinese as life happens
Do you want your family to learn Chinese but not a native speaker or fluent?
There are many parents and carers who wish to raise their children to be bilingual for many reasons, however they may not be fluent themselves or they may have lost fluency with time
.
Children learn to talk from their parents however, the toughest part of learning Chinese is learning how to speak like a native.
Most Mandarin Chinese books cover travel and business affairs, this unique book covers every day phrases spoken to children such as feeding, daily activities right through to bedtime and talking about feelings.
Start introducing common phrases that you would normally speak to your children but replace them in Chinese
✓ This book covers common phrases and words when communicating with your baby and older children.
✓ Start speaking Chinese straight away and learn as life happens
✓ Free audio spoken by a native speaker which you listen on mooliprint.com
✓ Useful and relevant phrases to communicate with children in Chinese
✓ Phrases come in simplified Chinese characters and pronunciation guide is in the Pinyin romanization system
✓ Written by a BBC parent raising their children to be bilingual.
TOPICS (40 Chapers)
The Basics
Daily Routine
Health & Personal Care
Daily Activities
Early Learning & Play
Eating
Social Skills & Emotions
Sleeping
Book dimensions: 5.5x8.5"
Number of pages 98
For more information visit mooliprint.com