Business Essentials for Healthcare Professionals: How to Operate a Sustainable, Profitable, and Salable Practice or Successfully Work for Someone Else (Paperback)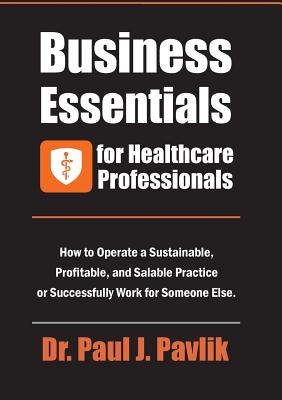 $39.95
Usually Ships in 2-3 Days
Description
---
This book is for healthcare professionals who must master the elements of business to run a successful practice or work in one. Whether a new graduate or a seasoned professional about to sell your practice, gain profitable insights to take control of the business of your practice. Dr. Paul J. Pavlik has helped hundreds of healthcare practitioners achieve their business goals. His understanding of the healing arts combined with his business acumen can help you decipher the mystery of running - or being a part of - a profitable practice.
"Today's most successful healthcare professionals are also well versed in essential business and management concepts. But, it's not taught at medical school. To operate a successful practice, you must be able to effectively lead the people around you, understand the financial landscape, create budgets, and navigate the regulatory environment. I definitely recommend it for all healthcare professionals."
- Afa Bayramova, MD, Editorial Board Member at US & UK Journals
"Dr. Pavlik's book is a masterpiece and treasure trove with valuable tips, insights, wisdom, and processes for planning your life and business. It should be required reading for every healthcare professional. There is one paragraph on page 146 that makes the whole book worth more than a million dollars."
- Frank Candy, International Motivational Speaker & Author
"This book is an excellent resource for any healthcare professional, whether just beginning as an employee, looking to buy a practice, or as an owner looking to bring on an associate, or looking to transition or sell a practice. This is a great guide to laying the foundations of a well-managed, and eventually, a salable practice."
- Amanda Falkowski, Practice Consultant, Recruitment, & Transitions