Alfa Romeo Tipo33: The Development, Racing, and Chassis History (Hardcover)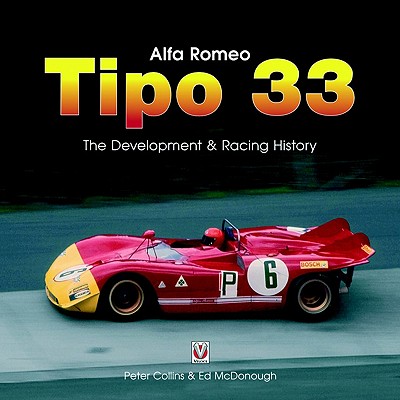 Description
---
At the time, little was recorded about the activities of Alfa Romeo's World Championshipvwinning Sports Racing car, the Tipo 33. The model had a long career, as a factory car as well as in private hands from 1967 until 1977. Great Italian motorsport engineer Carlo Chiti designed and ran a prolific number of different models of the Tipo. Unfortunately, nothing of the history of these developments was documented at the time, but the author has managed, after intense investigation and numerous personal interviews, to uncover much about this marvelous sports prototype.
About the Author
---
Co-founder and Editor-at-Large of Auto Italia magazine in the UK since 1994, Peter Collins' enthusiasm for Italian motorsport emanated from Le Mans 1967 as a Ferrari supporter. He has subsequently become intimately involved in the total Italian motoring scene, both with the cars and the people. Peter has now published several books with Veloce, including books about the Lancia Delta Integrale, Alfa Romeo Tipo 33, Ferrari 312P, and British Touring Car Racing. 
Ed McDonough is a renowned and experienced motoring writer. He is European Editor of Vintage Racecar magazine, and one of the few journalists in the privileged position of being able to test and race the historic machinery he writes about. He has raced for over forty years, and still competes in international and historic events – several of his books have featured reports from his own test drives. Ed also does radio commentary at Goodwood, Monaco and American events. He lives in Northampton, England.