Weight Loss For Women: SHREDDING THE POUNDS THE FEMALE WAY - The Ultimate Intermittent Fasting For Women With Workout, Diet, And Meal Plans T (Paperback)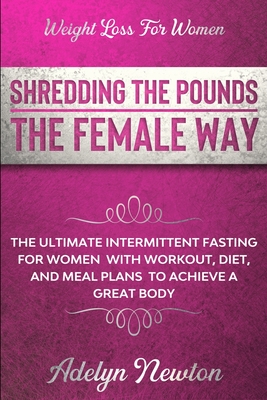 $19.99
Coming Soon - Available for Pre-Order Now
Description
---
LOSE WEIGHT AND SHRED THE POUNDS THE FEMALE WAY TODAY
When it comes to getting healthy through weight loss, there's never any shortage of fitness crazes and diets that claim to have the secret to easy and sustainable weight loss. One of the latest diet plans that have come into the spotlight is the hormone diet, which claims that people often struggle to lose weight because of their hormones.
The body reset diet will help you in weight loss with light exercise and low-calorie diet plans for fifteen days. The diet is divided into 3 phases of five days each. Each phase had a particular pattern of diet and exercise routine. You need to consume food five times every day, starting from the first phase, which mostly consists of smoothies and progressing to more solid foods in the second and third phases.
In This Book You Will Learn:
✓ What Is Emotional Eating?
✓ The Neuroscience of Brain Chemicals and Food As a Reward
✓ Psychological and Emotional Triggers
✓ How to Stop Binge Eating, Bulimia, and Emotional Eating
✓ Making Healthier Decisions Using Intuitive Eating
✓ The Benefits of Intuitive Eating
✓ How to Make These New Choices a Habit
✓ 30-Day Meal Plan
✓ How to Reset Your Body?
✓ Science Behind Metabolism Reset
✓ How You Can Matter to Yourself
Amazing Recipes Include:
★ Feta, mushroom and spinach, omelet.
★ Oven-baked tempeh with broccoli and cauliflower rice.
★ Chicken Caesar salad- tofu and romaine lettuce, parmesan
★ Herb and Goat Cheese Omelet
★ Mediterranean Cod
★ Brussels Sprouts With Honey Mustard Chicken
★ Kale and Sweet Potato Frittata
★ Dopamine Delight Smoothie
★ Maca Mango Smoothie
★ Walnut, Ginger, and Pineapple Oatmeal
★ Chocolate Pomegranate Truffles
Be gentle with yourself throughout this process as it will be uncomfortable at times and will require strength. This book will help you through it, as you are not alone.
Pick up your copy of the book right now by clicking the BUY NOW button at the top of this page