Workouts in a Binder for Swimmers, Triathletes, and Coaches (Spiral)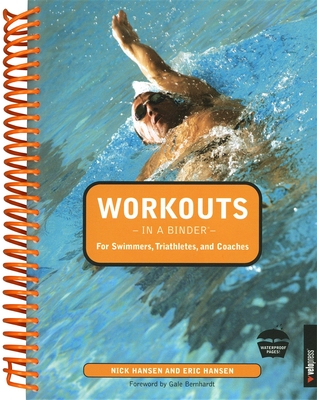 $29.95
Usually Ships in 2-3 Days
Description
---
A collection of 100 swim workouts and six training plans. It tells how their diverse approach to workouts and training plans extends beyond freestyle to include other strokes for masters and collegiate swimmers, coaches, and triathletes. It covers workout categories including: Long distance; Middle distance; Sprint; Individual medley; and, Stroke.
About the Author
---
Nick Hansen holds a graduate degree in exercise physiology. He is a former U.S. National Team swimming coach, University of Wisconsin head coach, University of Arizona assistant coach, and the Loveland Master's team coach. Nick also served as an exercise physiologist at the University of Wisconsin Sports Medicine Clinic.

Eric Hansen has national and international experience as a member of the U.S. National Team as an athlete and coach. Currently he is the head men's and women's swimming coach at the University of Wisconsin. In 2004 he coached an athlete who won a gold medal and set a World Record at the Olympic Games. He was also the head coach for the 2003 Pan American Games and the 2002 Short Course World Champion ship. Eric holds a master's degree in exercise physiology from the University of Arizona and a bachelor's degree from Iowa State University.