The Cyclist's Training Bible (Paperback)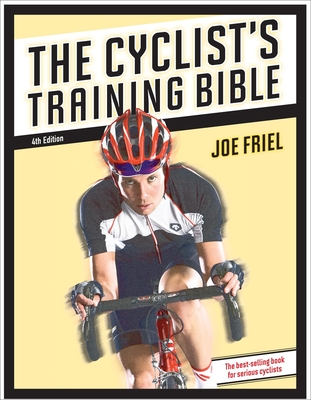 Description
---
Coach Joe Friel is the most trusted name in endurance sports coaching, and his Cyclist's Training Bible is the most comprehensive and reliable training resource ever written for cyclists. This new edition of the bestselling book includes all of the latest advances in training and technology. Using this book, cyclists can create a comprehensive, self-coached training plan that is both scientifically proven and shaped around their personal goals.
Friel empowers athletes with every detail they need to consider when planning a season, lining up a week of workouts, or preparing to race. This fourth edition includes extensive revisions on the specifics of how to train and what to eat. Friel explains how cyclists can:
best gauge intensity with power meters and other new training technology to maximize form and fitness and reduce fatigue;
more knowledgeably and accurately make changes to their annual training plan over the course of a season;
dramatically build muscular endurance with strength training;
improve body composition and recovery with smarter nutrition.
With more case studies to draw from and multiple contingency plans for those times when training doesn't progress as planned, The Cyclist's Training Bible continues to be the definitive guide to optimal cycling performance.
About the Author
---
Joe Friel is the most trusted endurance sports coach in the world. He is the best-selling author of "The Triathlete s Training Bible," "The Cyclist s Training Bible," "Fast After 50," "Going Long," "Your Best Triathlon," "The Power Meter Handbook," and "Your First Triathlon." His TrainingBible Coaching service is one of the most successful and respected in endurance sports.Joe has trained endurance athletes since 1980, including national champions, world championship contenders, and Olympic athletes in triathlon, duathlon, road cycling, and mountain biking. He is an elite-certified USA Triathlon and USA Cycling coach and holds a master s degree in exercise science. He conducts training and racing seminars around the world and provides consulting services for corporations in the fitness industry. He has also been active in business as the founder of Ultrafit, an association of coaching businesses; TrainingPeaks, a web-based software company; and TrainingBible Coaching. "
Praise For…
---
"Joe Friel is arguably the most experienced personal cycling coach in the U.S., and his book The Cyclist's Training Bible has become, well... the Bible of the sport." — Bicycling magazine
"I find Friel's book a treasure of information for cyclists of all levels." — Andy Hampsten, 1988 Giro d'Italia winner, 1992 Tour de France stage winner at Alpe d'Huez
"This book will have you systematically training just as world-class cyclists do. If you scrupulously follow its guidelines, I'm confident your racing performance will dramatically improve." — Tudor Bompa, PhD
"Nothing else comes close to The Cyclist's Training Bible's comprehensive approach to planning out a season, creating a training schedule and incorporating diet and resistance training to an overall plan." — BikeRumor.com
"Packed with worksheets, charts, visuals and a dense index and references for further reading, The Cyclist's Training Bible is an arsenal of encyclopedic information for ambitious riders." — DailyPeloton.com
"The Cyclist's Training Bible has become a cyclist's best chance at achieving their goals. This is the ultimate manual for growth as a cyclist." — BicycleSmile.com