Your Best Triathlon: Advanced Training for Serious Triathletes (Paperback)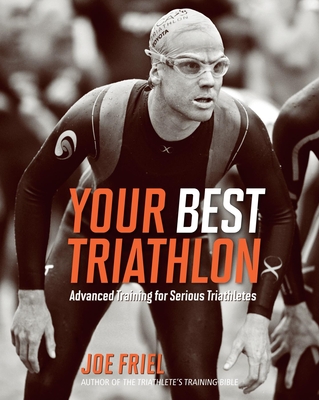 Description
---
Your Best Triathlon is a master plan that will guide experienced triathletes through every week of their season. For each phase of training, Joe lays out the path to success, outlining clear objectives and the guidelines to meet them.
Joe Friel's highly refined training plans for sprint, Olympic, half-Ironman(R), and Ironman(R) race distances will help serious triathletes deliver a breakout performance, even those with countless races under their belt. Joe offers a tool kit of proven workouts that will isolate and develop specific abilities. Within each workout and plan, he offers easy modifications to better manage personal limiters and improve performance.
Hundreds of thousands of triathletes have relied on Joe Friel and his groundbreaking best seller, The Triathlete's Training Bible, to develop their own self-coached training programs. Now Joe Friel, the most experienced coach in triathlon, reveals his formula for advanced training and coaches triathletes to their best race ever.
About the Author
---
Joe Friel is the best-selling author of The Triathlete's Training Bible, The Cyclist's Training Bible, Going Long, Your Best Triathlon, and Your First Triathlon. His TrainingBible Coaching franchise is one of the most successful and respected in endurance sports. Joe has trained endurance athletes since 1980, including national champions, world championship contenders, and Olympic athletes in triathlon, duathlon, road cycling, and mountain biking. He is an elite-certified USA Triathlon and USA Cycling Coach and holds a master's degree in exercise science. He conducts training and racing seminars around the world and provides consulting services for corporations in the fitness industry. He has also been active in business as the founder of Ultrafit, an association of coaching businesses; TrainingPeaks, a web based software company; and TrainingBible Coaching.
Praise For…
---
"If you truly want to see just how good you can be, get a copy of Friel's latest training manual, Your Best Triathlon." — Active.com
"From one of the most trusted coaches in the sport, Your Best Triathlon is the culmination of decades of experience helping committed athletes achieve their best race ever. Following his plan, even mid-season as I have, I've found a happy medium of self-coaching and learning from one of the best." — LAVA magazine
"Joe Friel's new book Your Best Triathlon: Advanced Training for Serious Triathletes takes his Training Bible series to a new level of sophistication and detail. Friel writes from a coach's perspective, tackling all race distances in a well-organized, easy-to-follow format." — Everymantri
"Highly functional and a must read for any self-coached triathlete. A fantastic tool to place into your triathlon toolkit." — TriMadness
"25 years of active multisport coaching has proven that Joe Friel has an unprecedented understanding of endurance sports. As a multiple triathlon world champion, I would consider Joe as one of the leading figures in triathlon coaching today. Joe's professional approach and practical understanding of sports physiology has helped many endurance athletes of all abilities reach their full athletic potential." — Simon Lessing, 5-time Triathlon World Champion