Swim Workouts for Triathletes: Practical Workouts to Build Speed, Strength, and Endurance (Workouts in a Binder) (Paperback)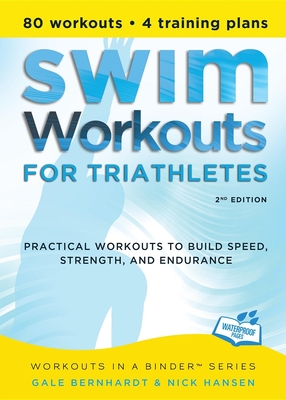 $29.95
Usually Ships in 2-3 Days
Description
---
Many triathletes find that their swimming is the weakest part of their event. This guide offers advice on how to train more effectively, outlining some 80 swim workouts.
About the Author
---
Gale Bernhardt is one of the most accomplished coaches in the sport of triathlon. She is a USA Triathlon and USA Cycling elite-certified coach and serves as one of a few USA Triathlon World Cup coaches. She coached the U.S. Olympic triathlon team in 2004. Bernhardt is a contributor to Active.com and has authored "Training Plans for Multisport Athletes," "Training Plans for Cyclists," "Bicycling for Women," and "Triathlon Training Basics."

Nick Hansen is a former U.S. National Team swimming coach, University of Wisconsin head coach, University of Arizona assistant coach, and a masters team swimming coach.
Praise For…
---
"There's no need to leave Swim Workouts for Triathletes home as the waterproof pages will survive countless trips to the pool deck." — USA Triathlon Life magazine
"Swim Workouts for Triathletes is full of workouts that will make it easy to prepare for any race and improve all-around swimming skills." — 3/GO magazine
"This book is made to go to the pool." — Competitor magazine
"Swim Workouts for Triathletes has given me workouts that are perfect for triathlon training in a structure that allows me to match them with my race goals… Exceptionally easy to take straight to the pool." — TriEssential
"How many triathletes look at the swim as just a giant obstacle course before the real race begins? Gale Bernhardt and Nick Hansen offer a good solution to that problem through the release of the second edition of Swim Workouts for Triathletes. The book links training objectives with workouts in the water that will drive improved performance at your "A" race this season." — TriJuice