Gathering from the Grassland (Paperback)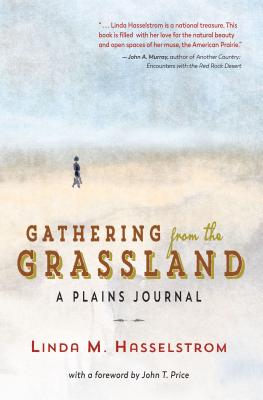 Description
---
Nature writer, poet, and longtime leader in land stewardship, Linda M. Hasselstrom examines several generations of family diaries searching for an understanding of her ancestors and for direction in planning for the future of the plains ranch which has been in the family for over a century.
Moving through the days of a year, she is never afraid to show the reader the most difficult thing of allthe truth of her life. The portrait that emerges is of a woman who makes peace with life's complexities and finds joy in honoring the plains and its people and animals.
Ever the nature writer at heart, Hasselstrom crafts miniature essays on plains animals including antelope, owls, badgers, snakes, buffalo, and cattle. She also delves into rural community dynamics, death and aging, family, and the work of a writer.
About the Author
---
Linda M. Hasselstrom owns a small family ranch in western South Dakota. Her seventeen published books of poetry and nonfiction include Feels Like Far: A Rancher's Life on the Great Plains, autobiographical essays. She has been an influential figure in the world of Western literature for several decades.
Praise For…
---
Linda Hasselstrom's lyrical journal grows, organically, out of a passionate love for the land, the land's creatures, and the land's people, present and part of her personal past. This enduring, endearing litany of a year in the life of a writer, a poet, and a rancher takes us deep into the heart of what it means to belong to a place, to live a deeply-rooted life to grow old with the land and to remain young with it, too. A precious glimpse into a year richly, uniquely, profoundly lived.
--Susan Wittig Albert: author of Together, Alone: A Memoir of Marriage and Place, and other memoirs, historical fiction, and mysteries, including the China Bayles series

This book is a rumination on the daily lives of an extraordinary writer-rancher, on the folk who raised her, and on the many ways physical and spiritual in which grass has sustained them and their cattle on this daunting South Dakota land. Hasselstrom s new journal, created day by day over an entire year, one blade at a time, unfolds like a new season s grasses. On the horizon, encircling everything she has seen, are echoes from the past. In offering a companion volume to her thirty-year-old Windbreak, Hasselstrom brings her prairie to life and puts her own self, and her forebears, under the microscope and makes sense of what once seemed chaotic.
--Alan Wilkinson: British author who writes of the American Plains. Author of The Red House on the Niobrara and other books

Hasselstrom Takes us through a year on the prairies of South Dakota that she has dedicated to reading histories of her less than functional family. Framed by the daily observations of capricious Great Plains weather, she methodically builds a picture of flawed parents and flawed marriages in a harsh land. Yet somehow there is optimism. There are profound lessons in these pages. Good stuff for the young looking forward and the old looking back.
--Dan O'brien: Rancher and author of Wild Idea: Buffalo and Family in a Difficult Land and many other books