The Ordinary Truth (Paperback)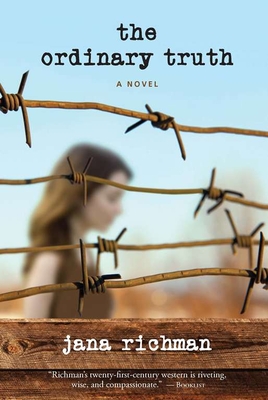 Staff Reviews
---
Two things are sacrosanct  for any
ranch in the western United States: family and water rights. The
Jorgensen family has ranched and run cattle in Spring Valley, Nevada
since 1885. Fast forward to 2011 when Kate Jorgensen, in her role as
deputy water resource manager for the Nevada Water Authority, appears on
television one night to inform the people of the Silver state that the
city of Las Vegas is, with the Authority's approval, going to sink
hundreds of miles of pipeline under the Nevada and Utah aquifers to
accommodate the ever-increasing growth of the Entertainment Capital of
the World. No one in her family or the small town of Omer Springs,
Nevada can comprehend her actions. Although she's a ranch girl by birth,
Kate's "family" life is divided into Before and After her dad died and
the fact that he died when she was ten years old has complicated and
confused her for 36 years. This novel is told from the very different
perspectives of Kate, her daughter Cassie, and her mother Nell. Her aunt
Leona adds a chapter here and there to give us an outsider's view of
the Jorgensen clan over the span of three generations. The truth is,
everybody has a different truth and it's hard, even impossible
sometimes, to see the other side of the coin. I loved this sweeping
story of three strong, smart women doing their best to make their way in
a West that is changing faster than any of us want to admit. In the
truth is stranger than fiction department, this very fight over water
rights is happening now in the Nevada legislature.
— From
Utah Lit
Description
---
With tough women and sensitive men, desert-dry humor, hot-springs sensuality, heartbreaking secrets, escalating suspense, and a 360-degree perspective on the battle over water, Richman's twenty-first-century western is riveting, wise, and compassionate.
--BOOKLIST, starred review
When Nell Jorgensen buried her husband, she buried a piece of herself--and more than one secret. Now, thirty-six years later, the rift between Nell and her daughter Kate threatens to implode as Kate, now forty-six and a water manager for the Nevada Water Authority, plans to pipe water from a huge aquifer that lies beneath the family ranch to thirsty Las Vegas. Meanwhile, Nell's twenty-one-year-old granddaughter Cassie intends to unearth those old secrets and repair the resentments that grew in their place. Throughout the novel, sparse and beautiful landscapes surround an emotional wilderness of love, loss, and family. Jana Richman is the award-winning author of The Last Cowgirl, which won the 2009 Willa Award for Contemporary Fiction. A sixth-generation Utahn, Jana was born and raised in Utah's west desert, the daughter of a small-time rancher and a hand-wringing Mormon mother. With the exception of a few misguided years spent in New York City trying to make a fortune on Wall Street, she has lived her entire life west of the hundredth meridian. She writes about issues that threaten to destroy the essence of the West--and about passion, beauty, and love. Jana lives in Escalante, Utah.
About the Author
---
Jana Richman: Richman was born and raised in Utah's west desert, the daughter of a small-time rancher. She writes about issues that threaten to destroy the essence of the West and lives with with her husband, writer and transpersonal therapist, Steve Defa.