Training Essentials for Ultrarunning: How to Train Smarter, Race Faster, and Maximize Your Ultramarathon Performance (Paperback)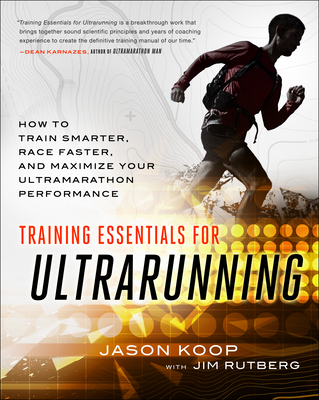 Description
---
When elite ultrarunners have a need for speed, they turn to coach Jason Koop. Now the sport's leading coach makes his highly effective ultramarathon training methods available to ultrarunners of all abilities in his book Training Essentials for Ultrarunning.
Ultramarathoners have traditionally piled on the miles or tried an approach that worked for a friend. Yet ultramarathons are not just longer marathons; simply running more will not prepare you for the race experience you want. Ultramarathon requires a new and specific approach to training. Training Essentials for Ultrarunning will revolutionize training for those who want to race an ultramarathon instead of just gutting it out to the finish line.
Koop's race-proven ultramarathon program is based on sound science, the most current research, and years of experience coaching the sport's star runners to podium performances. Packed with practical advice and vetted training methods, Training Essentials for Ultrarunning is the new, must-have resource for first-timers and ultramarathon veterans.
Runners using Training Essentials for Ultrarunning will gain much more than Koop's training approach:
- The science behind ultramarathon performance.
- Common ultramarathon failure points and how to solve them.
- How to use interval training to focus workouts, make gains, reduce injuries, and race faster.
- Simple, effective fueling and hydration strategies.
- Koop's A.D.A.P.T. method for making the right decisions to solve a race-day crisis.
- How to plan your ultra season for better racing.
- Course-by-course coaching guides to iconic U.S. ultramarathons including American River 50, Badwater 135, Hardrock 100, Javelina 100, JFK 50, Lake Sonoma 50, Leadville 100, Vermont 100, Wasatch 100, and Western States 100.
- How to achieve your goal, whether it's finishing or winning.
A revolution is coming to ultrarunning as ultramarathoners shed old habits and embrace the smarter methods that science and experience show are better. Featuring stories and advice from ultrarunning stars Dakota Jones, Kaci Lickteig, Dylan Bowman, Timothy Olson, and others who work with Koop, Training Essentials for Ultrarunning is the go-to guide for first-time ultrarunners and competitive ultramarathoners.
About the Author
---
Jason Koop is the Director of Coaching for Carmichael Training Systems, coach to elite ultrarunners, and an accomplished ultramarathoner. Koop walks the walk--or runs the run, as the case may be--when it comes to ultras. His journey from a cross-country runner at Texas A&M to ultra coach started with a postgraduation internship at CTS in the summer of 2001. A runner in a company of predominantly cycling coaches, Koop was quickly drafted and trained to be the company's lead running coach. In 2006 he traveled around the United States coaching and supporting Dean Karnazes as the "Ultramarathon Man" ran 50 marathons in 50 states in 50 days. Karnazes again tapped Koop's expertise in 2011 for "Regis and Kelly's Run Across America with Dean Karnazes," a nearly 3,000-mile cross-country run. As the director of coaching for CTS, Koop coaches runners, cyclists, and triathletes in his role as a CTS premier coach. He also oversees the recruitment, education, and ongoing evaluation of more than 30 full-time endurance coaches and has developed CTS's quality assurance system for coaching as well as the CTS Coaching College. His personal ultrarunning resume includes two top-10 finishes at the Leadville Trail 100 Run and finishes at some of ultrarunning's most formidable events, including the Western States Endurance Run, the Badwater 135, the Wasatch 100, and the Hardrock 100.Jim Rutberg is the media director and a coach for CTS. He is coauthor, with Chris Carmichael, of The Time-Crunched Cyclist, The Time-Crunched Triathlete, The Ultimate Ride, Chris Carmichael's Food for Fitness, Chris Carmichael's Fitness Cookbook, The Carmichael Training Systems Cyclist's Training Diary, 5 Essentials for a Winning Life, The Time-Crunched Cyclist and innumerable web and magazine articles. His work has appeared in Bicycling, Outside, Men's Health, Men's Journal, VeloNews, Inside Triathlon, and more. A graduate of Wake Forest University and a former elite cyclist, Rutberg lives in Colorado Springs with his family.