The Rescue Begins in Delaware (Paperback)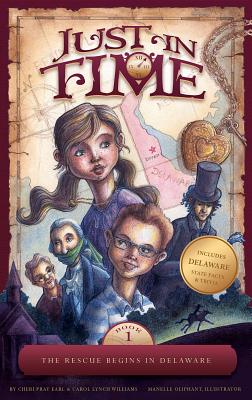 Other Books in Series
This is book number 1 in the Just in Time series.
Description
---
George and Gracie begin their adventure in Dover, Delaware 1776. The kids are surprised to discover that one of them changes into an animal every time they travel, and this time Gracie is a horse. All the twins want to do is return a pair of antique school desks and search for their parents. But instead they find themselves in the middle of the American Revolution and end up helping Caesar Rodney make his famous ride into Philadelphia to vote yes for the Declaration of Independence. Crowe lands in Delaware, too, and he plans to take the time machine with George and Gracie inside
About the Author
---
Carol Lynch Williams is the author of more than 25 books for kids and teen readers. She runs Writing and Illustrating for Young Readers (in it s 13th year), has an MFA in Writing for Children and Adolescents from Vermont College and writes on an active blog with fellow writers Ann Dee Ellis and Kyra Leigh Williams (www.throwingupwords.wordpress.com). She teaches creative writing at Brigham Young University and has garnered several writing related awards (Utah Arts Original Writing Contest, Nebraska Golden Sower Award, ALA Quick Picks for Reluctant YA Readers, ALA Best Books for Young Adults, PEN Award Nominee, Children s Literature Choice List, HM for Newton Books Best Books of the Year, IRA Teacher s Choice book, Selected Book for the Social Studies, Five-star Amazon Books Reader s Review, Top Ten Romance Book for Booklist, Book for the Teen-Age New York Public Library List, Children s Book Council Showcase, AML Winner Children s Category, Top Ten Barnes and Noble Book, Book for the Teen-Age List New York Public Library List, PEN/Phyllis Naylor Working Writer Fellowship, Whitney Award, Scholastic Book Pick for Humor, Audie Winner, and has had books on many state reading lists.). She is proudest of her five daughters who are the Carol s best creative effort, ever. She and Cheri have been best friends for almost 20 years. Cheri Pray Earl graduated with her M.A. in Creative Writing from Brigham Young University in 1995 and has taught writing and literature courses for the BYU Honors Program and English Creative Writing Program for the past 20 years; she was awarded BYU Honors Professor of the Year in 2005 (which she brags about whenever she can).She published a non-fiction children s book for American Girl co-authored with Rick Walton in 2009, but in real life she writes young adult novels; she won the Utah Original Writing Competition in 1994 for the YA novel, Flat Like Me, and took Honorable Mention in 1997 for the YA novel, The Swan. Her newest novel, Mr. Ditchy, is at Agent Steve s house. Secret Agent Steve. "