King's English Update
Our curbside pickup is available Monday-Friday 11 a.m. to 5 p.m. Thank you for your orders!
Once a King (Clash of Kingdoms #3) (Compact Disc)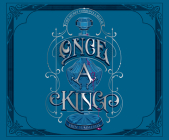 Other Books in Series
This is book number 3 in the Clash of Kingdoms series.
Description
---
For twenty years, Channelers' women with a magical ability' have been persecuted in Malam by those without magic. Now, King Aodren wants to end the bloody divide and unite his kingdom. But decades of hatred can't be overcome by issuing decrees, and rumors of a deadly Channeler-made substance are only fueling people's fears. Lirra has every reason to distrust Aodren. Yet, when he asks for her help to discover the truth behind the rumors, she can't say no. With Lirra by his side, Aodren sees a way forward for his people. But can he rewrite the mistakes of the past before his enemies destroy the world he's working so hard to rebuild? Erin Summerill returns with a high-stakes fantasy full of romance, magic, and revenge' perfect for fans of Susan Dennard and C. J. Redwine.