The Practical Guide to Reloading Ammunition: Learn the Easy Way to Reload Your Own Rifle and Pistol Cartridges (Practical Guides #3) (Paperback)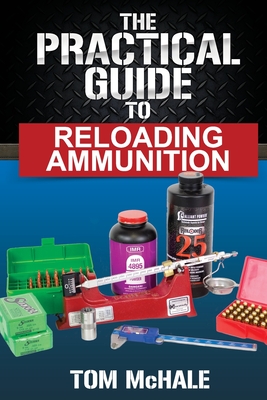 $12.99
Usually Ships in 2-3 Days
Other Books in Series
This is book number 3 in the Practical Guides series.
Description
---
Learning how to reloading ammunition can be a daunting task. Technical manuals and books full of arcane data can make the subject mysterious and overwhelming. No more The Practical Guide to Reloading Ammunition teaches the subject in a fun, easy-to-understand, and safe manner.
Starting from the very beginning, The Practical Guide to Reloading Ammunition will help readers understand the gear they need - and what can wait. Chapter by chapter, the book explains the entire process from brass cleaning to final inspection. Loaded with pictures and illustrations, the process is made simple and clear. With this book, readers will be reloading their own cost-effective ammunition quickly and safely. The Practical Guide to Reloading ammunition focuses on the "how-to" aspects of reloading. Author Tom McHale explains. "Think of reloading manuals as sheet music. And this book as Mrs. Clutterbuck's piano lessons. If one develops a sudden urge to play Carnegie Hall, or even Bodean's Wet Whistle Bar and Bait Shop, they could just order sheet music from the Internet. But it probably wouldn't be the most direct path to ivory key success. Take some lessons first, then order the sheet music." Although the author believes reading this book will be a far more pleasant experience than weekly lessons in Mrs. Clutterbuck's den, the idea is the same. The guide will teach aspiring reloaders how to get started. Topics Include: - Why take up reloading?
- Is reloading right for you?
- What equipment do you need?
- Cleaning and processing brass.
- The reloading process: step by step.
- Pistol caliber reloading.
- Rifle caliber reloading.
- Buying reloading components.
- Advanced equipment options - how gear can speed up the process.
- Introduction to advanced topics.
About the Author
---
Tom McHale is a committed learning junkie always seeking a new subject victim. As a lifelong student of whatever grabs his attention on any particular day, he thrives on beating rabbit trails into submission. In between his time as a high-tech marketing executive, restaurant owner, and hamster cosmetology practitioner, he's published seven books and nearly 1,500 articles. For Tom, learning is only half the fun - the other half is sharing his experiences with readers using his trademark "half-cocked but right on target" style.