50+ Large Print Crossword Puzzles for Adults-Revised Edition: The Unique Brain Games Crossword Puzzles in Large Print with Today's Contemporary Words (Large Print / Paperback)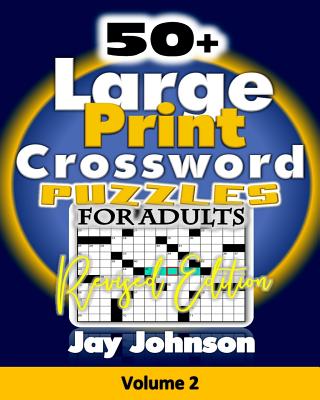 $7.56

Usually Ships in 2-3 Days
Description
---
Welcome to the Revised Edition of the 50+ Large Print Crossword Puzzles for Adults...The Unique Brain Games Crossword Puzzles in Large Print with Today's Contemporary Words as easy crossword puzzles for Adults Volume. 2.
This book was fashioned to help adults puzzlers achieve total brain workout. Well, to be frank, it is also suitable for the seniors and young Adult alike
Besides, the WORDS TO SEARCH and the PUZZLES itself were re-positioned to maintain the classic pattern
Yes, they're challenging for the brain, but not hard on the eyes, so everyone can enjoy some puzzle fun. Besides, each of these large-print puzzles--50 crosswords in this book takes two pages, so they're easy to see and to fill out.
And these astute puzzles will really delight you, covering a variety of questions that will offer a real test of your word intelligence... with over 50 words to fill-in for each puzzle
Well, to solve the puzzles, you will just need to enter words from the list provided on the next page to the crossword-like diagram to fill the form with words reading across and down.
Each word seek puzzle comprises of two adjacent pages making it a full spread, an easy crossword game activity for seniors. The words to find are on the full left page and the puzzle is on the full right page, for easy readability with Giant Fonts of over 18 point sizes.
Besides, there are 50 fascinating crossword puzzles, of 55 words/phrases to a puzzle making it 50 x 55= 2,700 words to fill
This book is part of a Series: Adults Brain Games Crossword Series. Without doubt, this is a Perfect gift for beginners and experienced puzzlers alike
In fact, these puzzles have been designed to suit anyone including visually impaired, due to its print lay-out and the interior set-up.
Get your copy today and Have fun solving the puzzles And one last thing... you can check the solution at the back page. Enjoy.