The Essential Karate Book: For White Belts, Black Belts and All Levels in Between [Online Companion Video Included] (Paperback)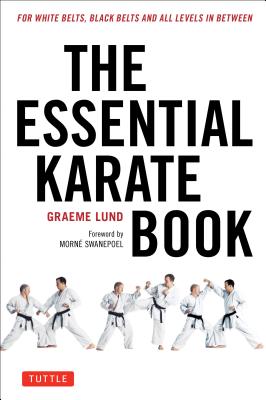 Description
---
The Essential Karate Book is an informative, illustrated guide to the techniques, philosophy and practice of karate.
With 20 chapters covering practically every aspect of karate, this in-depth reference will assist students and instructors as they plot their course through karate instruction, benefiting those at all levels.
The Essential Karate Book
contains 200 diagrams mapping out moves with 300 step-by-step photographs and companion videos, making it a comprehensive general karate reference for Western audiences.
Readers of this karate guide will learn about:
Stances, blocks, strikes and kicks
Preparing your body through warm-ups, stretching, and conditioning through karate-specific exercises
Kata grading and fighting (kumite) techniques and competition rules
Martial arts weapons (kobudo), and MMA (Mixed Martial Arts) applications
The origins and history of karate
Required behavior, clothing and etiquette, as well as the fundamentals of karate and the different styles that share them
The Essential Karate Book
is a must-have for any martial arts enthusiast, from beginners to black belts.
About the Author
---
Graeme John Lund fell in love with karate as a young man and pursued every martial arts course that he came across; from body guarding to body conditioning. Although he began karate fairly late in life, he thoroughly enjoyed competitive karate and was a regular participant. It was not until he graduated to First Dan that he realized that teaching karate, not just the moves and techniques, but the fundamentals and essence, were what he enjoyed most. His 20 years of experience in self-defense, teaching, learning, researching and pure, downright enjoyment of karate have all been distilled into this book. Foreword writer Morne Swanepoel is a full time coach and practitioner and is certified as one of the most qualified Reality Based Personal Protection High Performance Mixed Martial Arts coaches in the world. Traveling countless times to International destinations in the past 15 years and featuring in almost every media medium across the globe the past couple of years, Morne has become one of the leading figures in realistic Martial Arts today. Morne is a full time coach and practitioner in Mixed Martial Arts and Reality Based Martial Arts, and a Pioneer in Combat Athletics. He has over 30 years of Martial Arts experience in various styles, and personal experience in the streets of South Africa. Morne writes regular columns and has featured in various leading Martial Arts Magazines worldwide. Morne is the President of CombatCoaching.com and is a Certified Instructor and Director for USA's Sgt Jim Wagner's Reality Based Personal Protection.