Los muertos indóciles / The Unmanageable Dead (Paperback)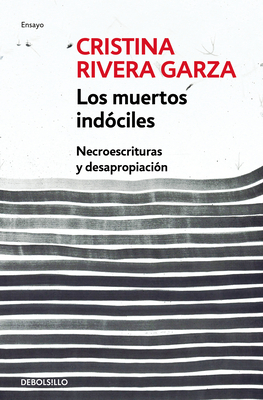 Description
---
Un análisis del estado de las escrituras contemporáneas en la era digital, así como un guion y una puesta en escena de cómo es posible leerlas y ensayarlas desde la crítica.

El cambio de siglo trajo consigo nuevas posibilidades de acercamiento a la escritura. Desde el traslado de la frontera entre plagio y creación, y la reapropiación y reescritura de textos ya existentes, hasta el amplio abanico de posibilidades desatado por el estallido de las tecnologías comunicativas, la escritura ha dejado de ser el espacio de introspección autoral privilegiado por el romanticismo para convertirse en una experiencia de la comunalidad contemporánea. Los ensayos que componen este volumen se sumergen en el panorama actual de las letras para trazar una geografía —siempre móvil y cambiante— de sus posibilidades estéticas, éticas y políticas; pues, a fin de cuentas, la escritura no es un monumento arcaico sino la suma de todas sus manifestaciones, viejas y nuevas, y de cada acercamiento, cada lectura y cada interpretación.

ENGLISH DESCRIPTION

An analysis of the state of contemporary writing in the digital era, as well as a script and staging for how to read them and rehearse them from the point of view of critics.
 
The new century brought with it new possibilities for approaching writing. From moving the border between plagiarism and creation, and the reappropriation and rewriting of existing texts to the wide array of possibilities unleashed by the flood of communication technologies, writing has ceased being the space of author-centered introspection favored by romanticism and become an experience in contemporary communality. The essays that make up this volume dive into the current literary panorama to highlight the geography—always mobile and changing—of its aesthetic, ethical, and political possibilities; after all, writing is not an archaic monument but the sum of all its manifestations, old and new, and of each approach, each reading, and each interpretation.
About the Author
---
Cristina Rivera Garza es norteña y errante a la vez. Escritora y lectora, sobre todo. Entre sus novelas se distinguen Nadie me verá llorar y La muerte me da -ambas ganadoras del Premio Internacional Sor Juana-FIL en 2001 y 2009, respectivamente-. Ha publicado cinco libros de poesía: La más mía, Los textos del yo, El disco de Newton. Diez ensayos sobre el color, Viriditas y La imaginación pública.

Obtuvo el Premio Internacional Roger Caillois (Francia, 2013), y la Universidad de Houston le otorgó un Doctorado Honoris Causa. En 2016 publicó Había mucha neblina, o humo, o no sé qué, su homenaje personal y visión de Juan Rulfo, que contiene ensayo, cuento, crónica y experimentos visuales basados en la obra del autor de Pedro Páramo.

Señalada como uno de los escritores más influyentes en la red, Rivera Garza mantiene un blog-archivo (www.cristinariveragarza. blogspot.com) y una activa cuenta de twitter (@criveragarza). Puede encontrársele en cristinariveragarza.com. Nacida en Matamoros, Tamaulipas, reside en Estados Unidos desde 1989. Actualmente es profesora distinguida de Estudios Hispánicos y Escritura Creativa en la Universidad de Houston.
 
Redes sociales:
Twitter: @criveragarza
Blog: http://cristinariveragarza.blogspot.com/
Página: cristinariveragarza.com