Coloring book letter A-Z Number 1-10: Fun with Numbers, Letters, Animals Easy and Big Coloring Books for Toddlers Kids Ages 2-4, 4-6, Boys, Girls, Fun (Paperback)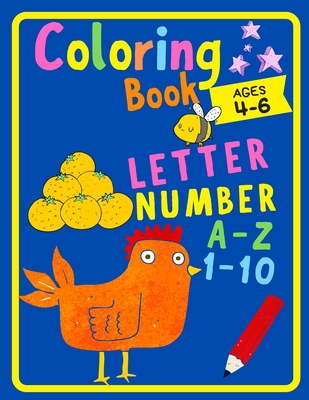 $5.99
Usually Ships in 2-3 Days
Description
---
26 completely letter A-Z animal word and 20 completely number 1-10 coloring pages for kids ages 2-6

About this abc letter number coloring book:
- Contains 26 completely letter A-Z animal word and 20 completely number 1-10 coloring pages There are NO duplicate images in this book.
- The pages are single-sided to prevent bleed-through, and so that pages can be removed and displayed without losing an image on the back.
- We have carefully designed each page to be entertaining and suitable for children in the 4 to 8 years-old age range. We have avoided overly-intricate designs as well as overly-simplistic ones. We believe children of this age love coloring fun scenes that fire up their imaginations, not a book full of simple shapes.
- The pages are a nice, large 8.5x11 size.

This activity book is designed for toddlers ages 2-6 but also suits any young preschooler or kindergartner.
TAGS abc coloring book, alphabet coloring book, coloring book for toddler, abc books for toddlers, alphabet books for toddlers, toddler activity books ages 2-4, early learning activity book, preschool activity book, alphabet books for preschoolers, preschoolers activity book, kindergarten activity book, alphabet books for kindergarten, abc coloring, alphabet coloring.