Triathlon Freestyle Simplified: Swim Stronger, Better, Faster (Paperback)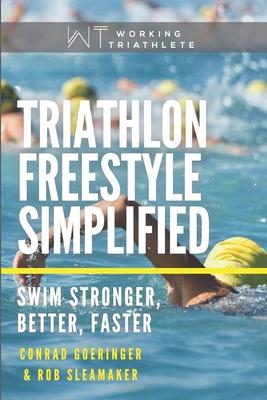 $17.98
Usually Ships in 2-3 Days
Description
---
Triathlon Freestyle Simplified provides no-nonsense training methods and swim technique instructions vital for all triathletes, open water swimmers, and coaches.
"LESS IS MORE...AND MOST USEFUL WHEN IT SIMPLIFIES." - Rob Sleamaker

This book will help you "find your Freestyle" for swimming in the open water by simplifying how to improve your swim training and your Freestyle technique.
Triathletes, open water distance swimmers, and SwimRun athletes will benefit the most from swim training that maximizes efficiency and saves precious time. Most people lead busy lives, are time-crunched, and need to optimize their time and energy investment, especially multisport athletes. Regardless of your swim background & experience, you will benefit from this distilled approach to training that is designed to address your unique situation, common limiters, and goals.
IN THIS BOOK, YOU'LL DISCOVER:

A smart, time-efficient method for improving your open water swimming.

How to painlessly overcome the challenges most athletes face.

Why a focus on better body position and increased propulsion matters.

How to leverage land-based training to swim stronger, better, faster

Triathlon Freestyle Simplified also includes powerful wisdom and insights from many world-class coaches and athletes found in the "From Experience" sections throughout the book. Their stories and advice bring relatable, real-world perspectives that will help you maximize your swim training and improve technique.

IN READING THIS BOOK, YOU WILL ALSO LEARN HOW TO:
Structure training cycles for maximum consistency and performance.

Do key workouts designed to enhance speed, endurance, and efficiency.

Fix common stroke limiters through focused form practice.

Use essential land-based training to build strength, power, and durability.

A commonsense approach that helps every time-crunched athlete focus on what matters most in training and race preparation.

How to effectively leverage land-based training for more strength, power, and endurance.