Dogs and Goals Training Vs Behavior: How to Train Your Dog to Be on the Best Behavior (Paperback)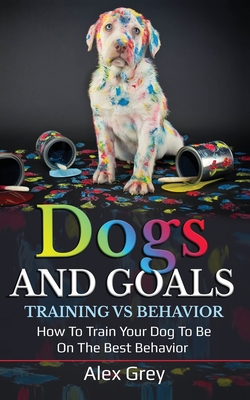 $19.99
Usually Ships in 2-3 Days
Description
---
Teach your dog something more substantial than cheap tricks.
As much as you love your dog, there comes a point when their destructive exploits stop being cute and start to become a drag.
Having a dog at home comes with so many joyful moments and pleasant experiences, like when they excitedly welcome you home, or cozily sit on your lap during cold wintry nights.
But they also come with a lot of responsibilities and their fair share of issues.
Your dog may be barking all night, keeping you up and annoying your neighbors.
Or they could be chewing up your furniture and leaving a total mess in your living room.
Whatever the bad behavior, these situations are usually manageable when they just occur a few times.
But when they become regular incidents that you keep having to fix, clean, or even pay for, it can make you question whether getting a dog in the first place was the right choice.
If you've reached your breaking point in getting your dog to behave, don't give up just yet.
There are a number of things you can do to teach your dog to not just follow your commands, but to also behave in the right way without having to be told.
In Dog-Well Trained vs Well Behaved, you will find out how to deal with your dog's problems, as well as the other aspects of dog rearing that you need to know. Inside, you will discover:
13 fun and easy tricks to teach your dog that will not only impress your friends, but also mentally stimulate your dog
How you can prevent your dog from ruining your precious flower bed without depriving them of their desire to dig through stuff
Why you don't have to spend hundreds of dollars on vitamins if you are using this meal to feed your dog
The innocent signs of affection you shower on your dog that are actually harming your bond with them, and the alternative acts that they prefer
What you can do with your dog's poop that will have them doing their business where you actually designate it
The useful tool that assists you with training, safety, and cleanliness, ensuring that both you and your dog feel secure, even when you're away from home
The most effective dog training method that will not only help you teach tricks, but also improve behavior
And much more.
Getting your dog to behave doesn't have to involve harsh punishments and overly strict rules, but it does involve more than teaching them to sit, stay, and roll over.
Your relationship with your dog is a two-way interaction. It's not just about giving your dog commands, but it's also about listening to what your dog is telling you.
Being attuned to your dog's needs will bring you a long way in fixing their behavior. You can find out what is causing your dog to act up, and resolve this in a more constructive way that sets them up to behave better in the future.
By putting in a bit of effort today, you will have years of effortless dog rearing, spending less time on disciplining, and more time on bonding with your dog instead.
If you want to make more wonderful memories with your beloved dog rather than spend time cleaning up their messes, then scroll up and click the "Add to Cart" button right now.