Alane Adams is visiting your school on Thursday, November 1, 2018!
GET YOUR COPY NOW! Pre-order your signed copy of The Circus Thief or The Blue Witch by ordering online below or filling out a form from your teacher or librarian.
The Circus Thief - The circus is in town, and Georgie has his heart set on going. When Papa agrees to take him and his friend Harley, the boys marvel at the amazing elephants and clowns. But the best act of all is the amazing Roxie, a trained horse who can do all sorts of tricks. When Georgie is invited to ride on her back, he discovers it's her last show—Roxie is going to be sent to the work farm! When Roxie bolts with Georgie on her back, Papa must come to his rescue. The Circus Thief is a heartwarming tale of boyhood set in 1920s Pennsylvania for children ages 4–8.
The Blue Witch - Nine-year-old Abigail Tarkana has a problem: her witch magic has finally come in, but it's different—and being different is a problem at the Tarkana Witch Academy. Together with her scientist-friend Hugo, she face off against sneevils, shreeks, and vikens in a race to discover the secrets about her mysterious magic.

Alane Adams is an author, professor, and literacy advocate. She is the author of the Legends of Orkney fantasy mythology series for tweens and The Coal Thief, The Egg Thief, and The Santa Thief picture books for early-grade readers. She lives in Southern California.
Event date:
Wednesday, January 23, 2019 -

8:30am

to

3:00pm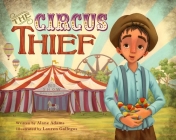 $15.00

ISBN: 9781943006755
Availability: Usually Ships in 2-3 Days
Published: Sparkpress - November 6th, 2018
---

$12.95

ISBN: 9781943006779
Availability: Usually Ships in 2-3 Days
Published: Sparkpress - October 23rd, 2018
---